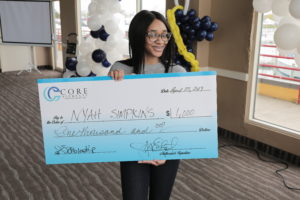 Core Elements Higher Education Resource Center will host its 5th Annual Fundraiser and Student Showcase Luncheon from 12-3 pm on Saturday, April 25, 2020, at Pi Banquet Hall, Southfield, MI. Our goal is to raise money to help fund the programs and services that we provide. These programs and services assist underrepresented students and adult learners in the Metropolitan Detroit area in their pursuit of higher education as well as provide scholarships.
While this is a fundraiser, it is also a time to celebrate our work and the achievements of our students. The event will feature a lunch buffet, a student showcase, and keynote address. You don't want to miss it!
The last day to purchase tickets is Saturday, April 19, 2020. 
Unable to attend? You can still demonstrate your support of our mission with a donation. Core Elements is a Non-Profit 501 C 3 organization, all donations are tax deductible. Simply click on this link to donate. Thank you!